Welcome to 4Mprototype.com!

4M is a specialized product development service equipped with the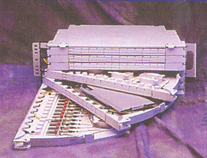 necessary machinery and staff to take an engineer's concept for a product, part, or such item, from sketch to prototype. Its unique intellectual capacity, its people, enables it to provide its customers with the personal support and experience required to side step development traps and, when necessary, to enhance concepts and to produce accurate models with a strict adherence to client specifications and production demands.

4M's dedicated staff works closely with its customers and holds their trust with the highest standards of propriety.